Quality Los Angeles Tooth Pain Relief Treatment
Endodontics treatment, or a root canal, is a dental procedure that is used to repair and save a tooth that is badly decayed, damaged or infected.
You can be assured of the highest treatment standards when you turn to Los Angeles root canal dentist James Brother, D.D.S., and his experienced staff. He uses the latest in modern technology to comfortably treat damage and diseases that affect the root of the tooth. We also provide braces and cosmetic dentistry.
If you're suffering from tooth pain or a tooth abscess, root canal treatment may preserve your natural tooth. Plus, it's a cost-effective solution when compared with the alternatives of dentures or dental implants to replace a lost tooth. At James Brother LLC6, we have experience you can trust, and with our proven procedures, you'll be done before you know it!
Don't lose a tooth unnecessarily. Call us today at (213) 234-9876. Or fill out our online form for easy scheduling. We have several payment options and we're available when it's convenient for you.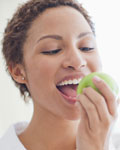 If you're looking for a highly-trained root canal dentist in , you've come to the right place. Dr. Brother offers root canal dentistry that residents have come to trust for the highest quality dental care.